Join our growing team of passionate innovators
Through our work, organizations can reduce health inequities, optimize their business performance and drive better health outcomes for those they serve. As we continue to expand, we look to hire those who will help cultivate a positive culture that encourages innovation and collaboration amongst people with diverse backgrounds and expertise.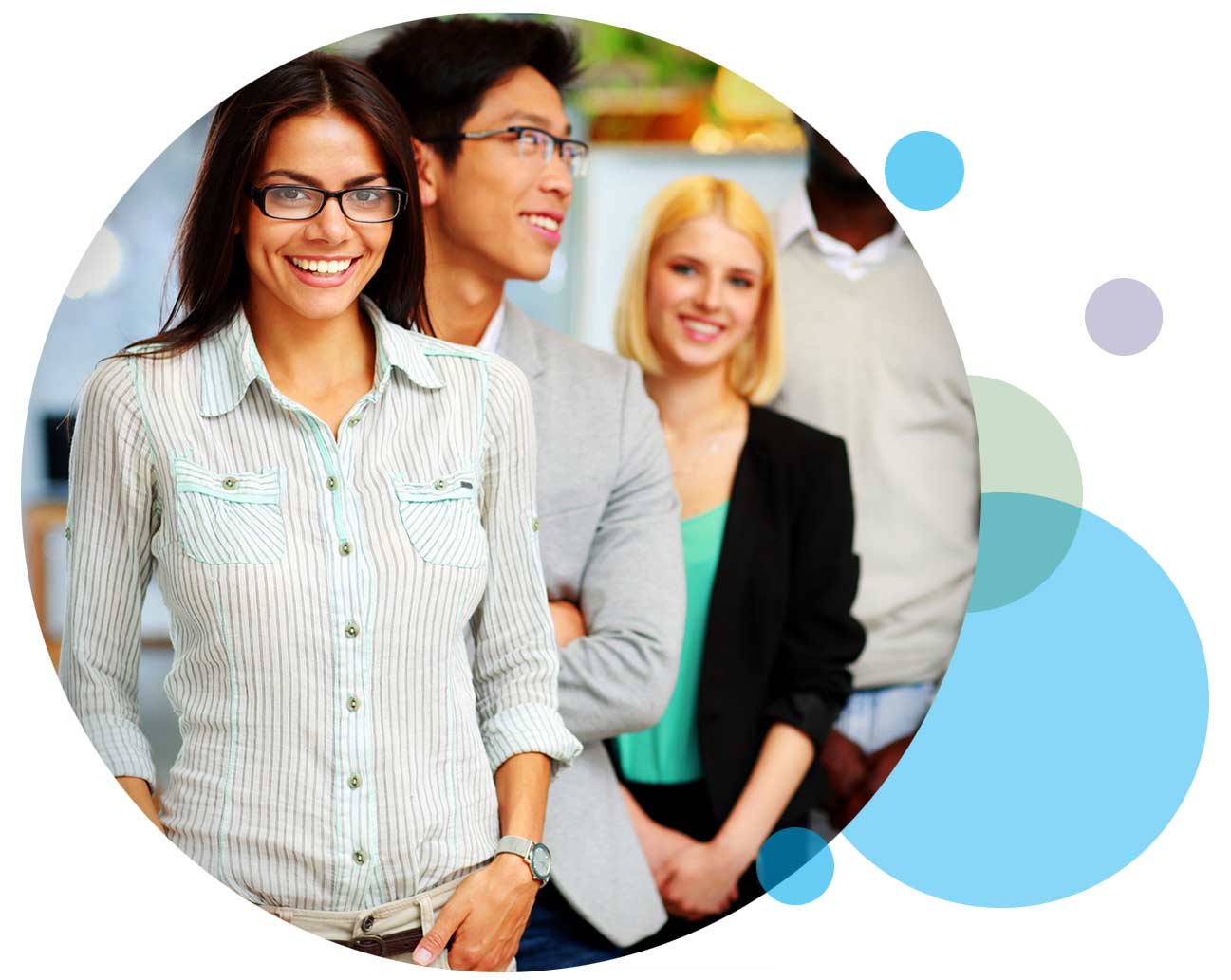 Parental Leave
Affordable Health Insurance Plans
Generous Paid Time Off
401K
What our employees are saying
"I love how my job at Socially Determined has taught me skills and knowledge that help me progress in my career. I feel fulfilled knowing that my work positively impacts the community around the United States. Everyone is welcoming and willing to help you with whatever you need!"

Min Pummalee DevSecOps Technical Specialist

"Working at Socially Determined has been an enlightening and humbling experience so far. Being surrounded by so many brilliant people all working toward a common cause has required me to step up my game and make sure that I am not only producing the highest quality work I can, but that I am continuing to learn everything I can about the domain and the technology available to us so I can help push forward our Social Risk Intelligence™."

Dan McMichael Manager, Data Science

"I love the conversations I'm a part of at Socially Determined. I'm able to help organizations understand social needs for the populations they serve, use data to identify where to invest, and then evaluate the impact of programs and interventions. My work supports equitable access to care that people need and deserve and enables communities and policymakers to confidently address disparities in the US health system."

Quekan Anike Sr. Manager, Strategic Solutions

"I'm challenged and motivated daily by incredible colleagues that are passionately working together to transform health care outcomes. It's an inspiring place to be."

Noelle Tullio Director of Operations

"I feel humbled and honored to work at Socially Determined. We have an incredible team, culture, and powerful mission to revolutionize the US healthcare system."

Edmond Magny Director of Product Management

"I love working at Socially Determined because I get to wake up every day inspired and ready to leverage my technical skills for a purpose. I also enjoy learning from talented co-workers, experts in various fields, and like-minded professionals."

Sushma Ashutosh Director, Technical Solutions

"I get to work alongside passionate innovators determined to tackle interesting health care issues across a variety of clientele. There's never a dull moment!"

Abel Amare SocialScape Analyst
See below for a list of current open positions at Socially Determined.
SocialScape Analyst II Remote – Full time
About the Role
SocialScape Analysts are responsible for producing high-value analytic reports, dashboards, and briefings that quantify and characterize the impact of social risk on the communities and populations our clients serve, highlighting the impact on utilization patterns, costs, outcomes, and other key business metrics. The SocialScape Analyst II will work closely with engagement leaders and delivery managers to design and execute rigorous analyses that quantify the impact of social risk using a variety of statistical and analytic approaches.
SocialScape Analysts also lead the cleaning, processing, and validation of client data, including clinical, claims, and programmatic data. The SocialScape Analyst II must be skilled at building clear and compelling stories from complex data, surfacing actionable insights regarding the impact of social risk on key business metrics. The role benefits from an understanding of health care from the perspective of payers, providers, and other partners across the health care delivery and payment ecosystem.
The SocialScape Analyst II must have 1-3 years' experience with health care datasets, be proficient in using relational databases and structured query language (SQL), and be comfortable conducting statistical analyses using R, Stata, or Python. The Analyst will build sophisticated queries, plan and design thoughtful analyses, identify data components that support compelling findings, and summarize findings in concise visualizations and polished deliverables. Experience with business intelligence tools, such as PowerBI or Tableau, is also required.
What You'll Do:
Design and execute analyses to quantify the impact of social risk – as well as programs implemented to mitigate it – on key business metrics, including utilization, cost, and outcomes.
Plan and lead data cleaning, processing, and validation efforts with client data teams.
Integrate data from multiple sources to produce required data elements.
Generate data characterizations and exploratory analyses using clinical, claims, and programmatic datasets.
Assist with data collection planning to enable statistically sound intervention evaluation designs.
Conduct a variety of analyses, including time series and cross-sectional analyses.
Create appealing and compelling executive-level briefings.
Design and build dashboards tailored to address client business needs and strategic priorities.
Other duties as needed.
What you'll need:
Undergraduate degree in biostatistics, statistics, or a related discipline.
Experience with large health care datasets, including clinical and claims extracts.
Experience with complex SQL and statistical analysis software such as R or Stata.
Experience with business intelligence tools, such as Qlik, PowerBI, Tableau, or similar tools.
Strong analytical reasoning skills and experience planning and conducting analysis.
Ability to independently reason through the design and development of analytic approaches.
Strong problem-solving initiative and personal accountability to the team.
Ability to work accurately, efficiently, and independently.
Ability to think critically, identify issues, and proactively propose solutions.
Strong ability to find and explain compelling stories hidden in large volumes of data.
Comfort leading detailed, technical discussions about complex data sets.
Experience developing analytics and visualizations that meet client needs and busines objectives.
Strong time and task management skills to balance multiple projects and competing priorities.
Commitment to clear and timely communications to team members, management, and clients.
Willingness to work in a fast-paced, team-oriented start-up environment.
Passion for improving the health of communities and enhancing the performance of our clients.
DevSecOps Compliance SpecialistRemote – Full time
About Socially Determined
Socially Determined is a fast-growing Washington DC-based company empowering organizations in healthcare and beyond to address the Social Determinants of Health that are practical barriers to people leading happier and healthier lives. Our clients use our Social Risk Intelligence platform SocialScape® to understand and quantify the impact of social risk on the people and communities they serve. Our cross-discipline team of mission-driven experts provide advisory services to help clients implement sustainable and measurable intervention programs that result in better health outcomes and business performance at scale.
We believe that social risk is a missing ingredient in healthcare and by partnering broadly with pioneering organizations, we can impact the lives of millions of people for the better. Socially Determined has proven executive leadership and is assembling a growing team of like-minded technology and services professionals that value our mission to serve and the high-growth potential of our company.
About the Role
Socially Determined is looking for a motivated DevSecOps Compliance Specialist that has compliance experience in frameworks like HIPAA & HiTrust (preferred), SOC 2, NIST, ITAR, etc. In this role, you will explore the latest HiTrust requirements to build and map Socially Determined's Information Security Management Program (SD ISMP) to the standard. This individual will review and complete client/vendor technical security questionnaires on a weekly basis (frequency varies) and become a subject matter expert for internal/external compliance questions. You will work with technical/non-technical teams to provide general IT support for Office365 and AWS cloud environment(s). As part of Socially Determined's DevSecOps team, you will further develop hands on skills within the growing cloud marketplace as a compliance and security operations specialist – while gaining exposure to broader technical concepts like Cloud & DevOps.
What You'll Do
HIPAA and HiTrust compliance mapping
Executing internal compliance audits (daily, weekly, monthly, quarterly, bi-annually and annually)
Play a crucial role on the DevSecOps team to build the SD ISMP
Complete client/vendor security questionnaires according to the SD ISMP
Security Operations: Threat Audit Monitoring (Daily)
Work with the DevSecOps team to implement management controls on our AWS environment(s) that address HiTrust data protection requirements, especially in auditing, log collection, intrusion detection, and role-based access controls for different user types
Assist, perform and review user, client, vendor onboarding procedures

Manage day to day user support issues: resetting passwords, rebooting virtual machines, extending storage volumes, performing snapshot backups, and general troubleshooting across Office365 and AWS cloud environments


What You'll Need
One to three

years' relevant compliance framework experience (HIPAA/HiTrust preferred)

Knowledge of cloud technologies like AWS and how to audit/secure them

General IT support experience with demonstrable troubleshooting ability

Excellent communication skills & public speaking knowledge (to internal teams)

Detail-oriented, team player

Bachelor's degree or equivalent


Socially Determined offers a competitive salary and benefits package. We are an equal opportunity and affirmative action employer M/F/Disability/Veteran. Interested candidates should fill out the form below and submit a resume.