Unmatched technology and experts to assess and address SDOH
It's critical for organizations to understand and quantify the impact of the social determinants of health (SDOH) affecting their populations to reduce exorbitant costs and poor health outcomes. SocialScape®, our Social Risk IntelligenceTM platform and advisory team illuminate where social risk exists, why it matters, and what to do about it for maximum business and community impact.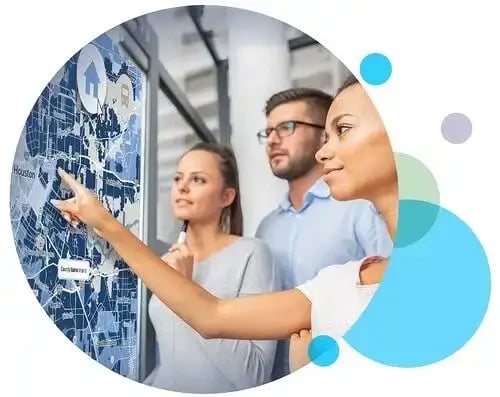 The only full-cycle Social Risk Intelligence solution to inform decisions that can improve health outcomes, reduce healthcare disparities, and maximize your bottom line.

Identify
Risk
Visualize and quantify social risk

Quantify
Opportunities
Understand the effect on your business

Prioritize
Actions
Build a roadmap to optimize investments and outcomes

Measure
Impact
Track results to substantiate and scale value
SocialScape in action
Get unmatched insights through SocialScape, the industry's first Social Risk Intelligence platform. Inform your organization's intervention strategies and drive action on programs that will deliver impactful, sustainable and measurable results.
WHAT OUR CLIENTS SAY
Testimonials
"I recommend Socially Determined all the time. What makes them good is that they understand the work we do in the payer space. We aren't just doing analytics. They understand nuances and help us figure things out. Socially Determined does a great job of helping us think through how to structure our analyses and what framework we should use to evaluate success."

"Socially Determined is an incredible company that is great to work with. They are extremely flexible, innovative, progressive, and responsive, so they are fantastic."

"Socially Determined is more than a vendor, they are a partner. The vendor gives and takes rather than just providing data. That is really important. Socially Determined is very engaged."

"If people really want to get down to an actionable, granular level so they can do something with the information, that is where Socially Determined really shines. I have a hard time finding other groups that can do what Socially Determined does."
WHAT's NEW AT Socially Determined
Relevant insights
Ready to learn more about
Socially Determined?